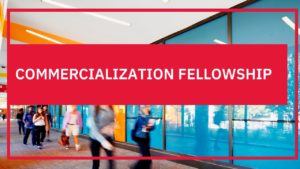 Commercialization Fellowship
$7,500 Commercialization Fellowship awards to commercialize your research! Applications closed. Stay tuned for next opportunity!
Commercialization
Innovation York's commercialization unit helps researchers bring their early stage intellectual property from the lab to the market and into people's hands. Leverage your research through commercialization grant funding, intellectual property protection and business development leading to licensing opportunities or start-up creation.
The Process
Conversation
Disclosure
Assessment
Engagement (Business Agreement)
Business Development
Commercial Outcome (Licensing or Startup)
Getting Started
It is never too early to start the conversation. Contact us or submit an Invention Disclosure to see what Innovation York can offer.
Licensing Opportunities
Innovation York is your one-stop-shop to license York University technologies or work with spinoff companies based on York intellectual property. Use In-Part to discover market-ready intellectual property and companies.
Our Impact
28Invention Disclosures
36Active Commercialization Projects
15Patent Applications Filed
$495,000Commercialization Grant Funding
9Start-Up Companies Created/Supported