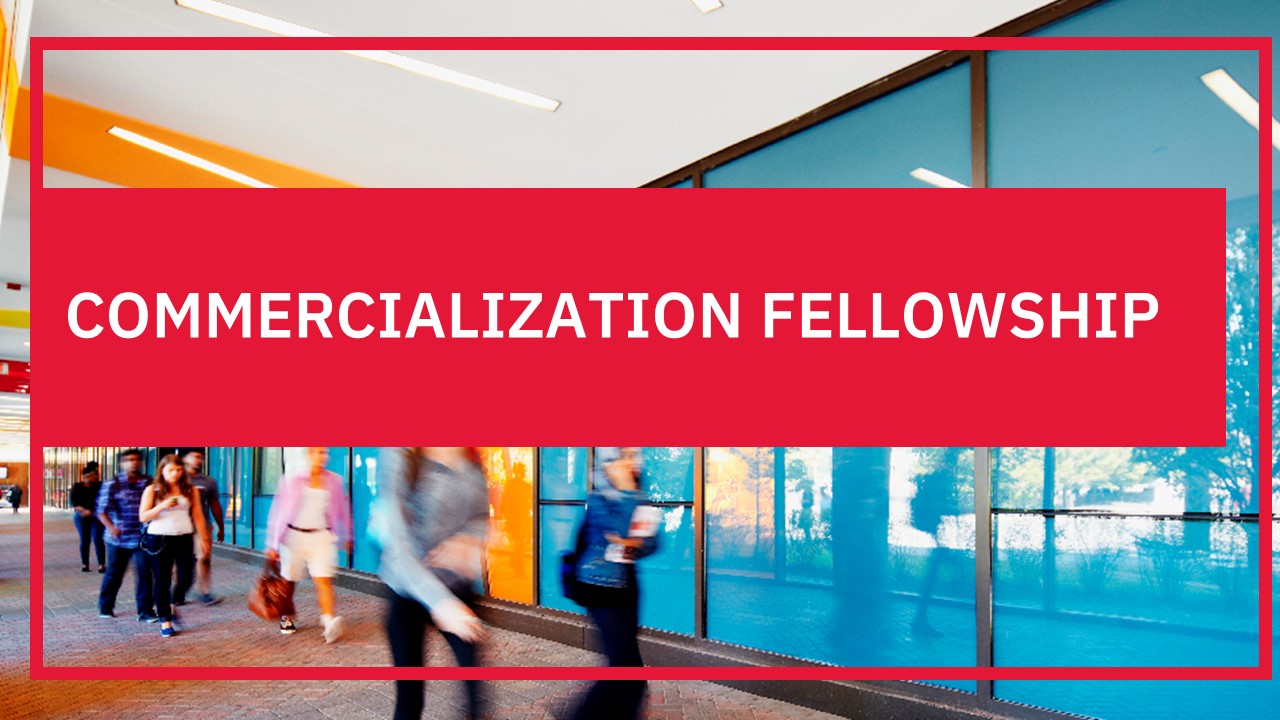 Commercialization Fellowships, funded by the Office of the Vice-President Research & Innovation (VPRI), are intended to support the research commercialization process by providing strategic, short-term funding to assist in the development of commercially viable projects. The aim is to prepare projects for commercial engagement with industry and/or community partners, with a view to licensing and/or co-development of the project intellectual property.
The fellowships are offered on a short-term, part-time basis and are intended to run alongside existing research work without detracting from it. It is envisaged that fellowships should not account for more than 8-10 hours per week for up to 4 months.
Eligibility
The VPRI Commercialization Fellowships aim to support projects with commercial potential from across the University and are open to postgraduate students and post-doctoral fellows, with approval from their academic supervisor. Intellectual property must be disclosed to VPRI prior to the start of the fellowship. The applicant's intellectual property should not be encumbered to any 3rd parties during the term of the fellowship.
Funding
Recipients will be given $7,500 per fellowship. While matching funds are not mandatory, applications that include matching funds will be looked upon favourably.
Education
As part of the Commercialization Fellowship, the fellows will receive education on intellectual property and commercialization, exposure to industry/community partners relevant to their field of study, and an experiential learning opportunity. Fellows will be supported by a series of educational activities, including workshops and seminars, and expected to complete tasks to enhance their commercial awareness including:
Prior art / patent searching
Commercial due diligence
Industry outreach/pitching
Use of Funds
Commercialization Fellowships may be used to support the following research activities:
Proof of concept
Prototype testing
Validation studies
and may be used to fund:
Stipend/salary (top-up) for the fellow in consideration of the work undertaken.
Payments for materials/apparatus required for the project, up to 25% of the total fellowship.
Communication & Reporting
Each fellow will be assigned a Commercialization Manager to work with and ensure that the project plan described in the application is carried out. Fellows will meet monthly with their allocated Commercialization Manager to monitor progress.
Fellows will be required to generate a final report and presentation as part of the Commercialization Fellowship:  A full write up of the project detailing methods, results, intellectual property and market overview and next steps. Fellows may be asked to give a final presentation.
Important Dates
September 07, 2023 - Applications Open
October 31, 2023 - Applications Close
December 22, 2023 - Awards Confirmed & Funds Allocated
April 30, 2024 - Projects Completed & Final Report and Presentation Due
*Dates are tentative and subject to change
How to Apply
Download the application form by clicking APPLY NOW button below.
Fill out the application form.
Submit the completed application form to: innovationyork@yorku.ca by October 31, 2023 11:59pmET.
If you have any questions about the commercialization fellowship, please contact innovationyork@yorku.ca